As some of you may already know, I was recently in Prince Edward County (PEC). I'm often surprised by how many people don't even know about this gem of a region. About 3 hours from Ottawa and Montreal, and 2.5 hours from Toronto, Prince Edward County is an absolutely idyllic corner of Ontario.
I am a city girl through and through. But this is country life I can get behind! There is something really special about PEC. It has this sense of place and community that is so prevalent. People are proud to live in the County. And it is palpable. As soon as you cross the bridge to the peninsula, there is instantly a different vibe. It's a bit like that scene in the Wizard of Oz where Dorothy opens the door to her house after the gale and everything goes from black and white to technicolour.
We always seem to be in a huge flap to get there, but once we do, life immediately slows down. Maybe it's the beautiful scenery. Maybe it's the delicious food and wine coming out of the region. Everything seems to taste better there. There are certainly plenty of reasons why people are fleeing their big cities en masse and heading to the County on weekends.
We ended up staying in Belleville for logistical reasons, and were quite pleased to discover that it is in the process of undergoing a bit of a transformation. Here were my favourite local finds:
Belleville Farmers Market: Open Tuesday, Thursday and Saturday year-round, the market was celebrating its 200th year of existence while we were there (i.e. it's older than our country).
Nice Ice Baby: amazing ice cream and coffee, with a ton of vegan-friendly options for the milk-o-phobes.
Funk and Gruven: we bought a very cool piece of art from this funky antique shop (this is a huge endorsement coming from me, considering I usually detest antique shops).
Gorgeous Waterfront: Belleville has tons of waterfront trails for cycling, picnicking, walking, or just for sitting and admiring Lake Ontario in all its splendour.
Then it was time to head to the County! Once we arrived in Picton, we headed straight to the Crystal Palace in the Fairgrounds. Built in 1887, it was the venue for Taste Community Grown. I was super excited to be there because I was judging the County Chopped event later in the day, with B&B chefs pitted against each other in a culinary battle to come up with the best breakfast with a set of given local ingredients. We arrived early, got our tasting glasses and drink tickets, and walked around visiting with the vendors and sampling their wares.
With over 55 vendors at the event, it was hard to know where to start! The County certainly has everything: honey, jam, lotions, soaps, knitted goods and even custom Prince Edward County clothing (I ordered this awesome shirt from Brass Dog PEC). There were a ton of restaurants and cafés with booths that were giving out samples. We started with some incredibly fresh oysters from The Shore.  We then made a beeline for Fifth Town Cheeses, one of our hands-down faves in the County. Local sheep/goat/water buffalo cheeses made in various styles?? Yes please. Luckily we'd come prepared with a cooler so we could take home some goodies. I also spent quite a bit of time chatting with Bree from the County Yum Club. She makes amazing cordials with combinations like Stinging Nettle Rosemary. I left her stand with the Lavender and Coriander Seed cordial, which is lovely and floral with the perfect amount of sweetness thanks to the local honey in it. We also had to get some of their pesto made with Fifth Town goat's cheese, just because.
And then there was the wine. There were a ton of local winemakers there, and I sampled one wine from each as I waited for my judging gig to start. There were two that really stood out for me, simply because they were so different from the rest:
Slightly off-dry so it has a hint of sweetness, this wine has a luscious texture while still feeling light on the palate. It tastes like peaches, lemon and elderflower, all the while reflecting the minerality of the soil.
Sandbanks' red wines always seem to take me by surprise. In fact, I think their cab franc was the first I ever liked and bought (P.S. it's a dollar off until October 9, so $13.95, if you want to try that one). The Sleeping Giant pictured above is made with two hybrids that do well in Ontario, Marechal Foch and Baco Noir. It makes for a surprisingly full-bodied blend, a rare thing for cool-climate reds. It fills your mouth with flavours of dark berries and sweet spices and some tannin for extra structure. Sandbanks Winery shares its name with the provincial park on the south side of the County, which has the most beautiful white sandy beach in all of Ontario. If you have never been, do yourself a favour and go next summer!
After I'd done the vendor rounds, it was time for the judging to begin!
After half an hour of chatting with the contestants and the other judges and trying to keep the audience entertained while the chefs did their thing (despite electrical malfunctions affecting two of the hot plates), it was time to eat!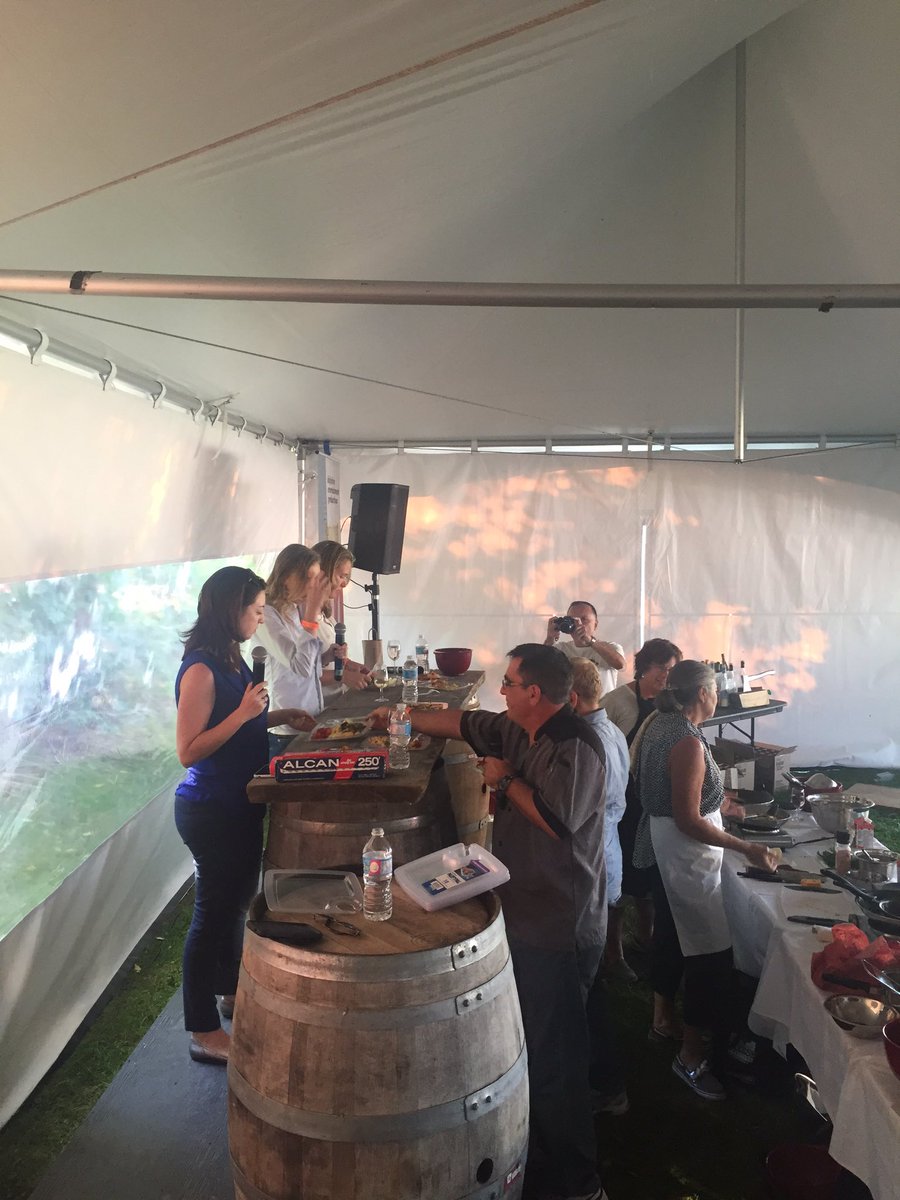 This yummy crepe topped with a sunny-side-up egg, tomatoes and cheese was delicious. I personally liked the mushroom and bacon smattering around the edge of the plate. This was prepared by Suzanne from Moonlight on the Lake.
Susan's entry above won an honourable mention for the amazing apple-bacon concoction at the top of the photo. It would have made an excellent topping for french toast. Susan and her husband Christian can be found at The Empty Nest B&B. 
Mark from The Black Licorice Tree B&B was declared the winner of this event with the dish above. My favourite part of it was the refreshing chopped tomatoes with mint, but the bechamel sauce on the eggs didn't hurt either.
After the event, we headed to Bloomfield for dinner at Agrarian Bistro.  Both my husband and I ordered the trout over greens, which went perfectly with a glass of the Grange Pinot Gris (which despite being a white wine has a lovely pink hue). Agrarian also has a separate bar/speakeasy downstairs featuring craft brews on tap, great ciders, wine and killer cocktails.
All in all, it was a lovely day that only reinforced how lucky we are to have this treasure trove of yummy food and wines so close to home. And we came home with a cooler packed full of delicious local goodies to prove it. Next time you are at the LCBO, head to the VQA section and check out the growing number of PEC wines on offer. I assure you, you won't be disappointed!
What's your favourite wine from the County? Please share it in the Comments!
Happy wining!
P.S. There are obviously a ton of things to do in Prince Edward County and I have not even scratched the surface of it here. If you're looking to do a bit of exploring, here are some places to start:
*Thank you to the Prince Edward County Wine Association, the Belleville Downtown Improvement Association,  Nice Ice Baby, and the Bay of Quinte Region for their contributions to this great weekend!